So my exams have finally finished… it's a very surreal feeling. Still got the project to go, but my time at university is even closer to being over. I don't think it's really sunk in yet.
Once the exam was over, a group of us headed to get some drinks, and came away with four bottles of cheap champagne sparkling white wine ("We've just finished our exams and want quantity over quality. What have you got?") and headed to the Union to consume it. Sadly things got slightly out of hand there, but I eventually headed back home after completely failing to work out how I could get to Camden (because I managed to completely forget the Tube existed).
Came back after the post-exam celebrations to find these stashed in the kitchen: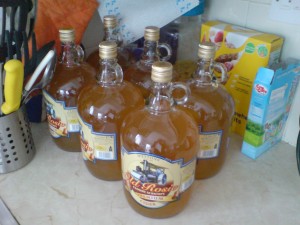 My cider has arrived!
So, next stop: project. The due date now seems incredibly close!